For All Skin
Types

Helps Prevent
Breakouts

Natural
Ingredients
Acne Cleanse Capsules - 3 Month Supply
30 Day Money Back Guarantee
There are no words to describe how amazing these products have been for my skin! Thanks for giving me my confidence back! - Sarah C., Kallistia Customer
Have you heard the news? Glowing skin is in! And though fancy lotions and topical creams may help to cleanse the surface, they're often harsh and can never give your skin what it really needs. The thing is, truly healthy skin is a reflection of overall health and therefore, needs to be nourished from the inside out.
Designed to provide relief for skin concerns such as pimples, acne, blemishes and uneven skin tone. 



Kallistia Acne Cleanse capsules are expertly formulated using a blend of traditional herbal ingredients including:
Vitamins A and C to brighten skin, encourage fresh cell synthesis and prevent breakouts.
Wolfberry, the fruit of Lycium barbarum, an antioxidant which works to promote collagen production, reduce signs of ageing, and reduce hyperpigmentation.
White Willow Bark Extract (Salix Alba) which contains salicin, or natural salicylic acid, and has remarkable anti-inflammatory properties, helping to alleviate acne and other skin irritations and reduce the appearance of visible pores.
Witch hazel Leaf (Hamamelis virginiana) which acts as an anti-inflammatory to minimise puffiness and reduce the appearance of blotchy or irritated skin, and contains pore tightening compounds to refine pores and boost firmness.
Just two capsules a day will feed your skin from within and enhance your natural glow, helping to promote a fresh, clear, healthy and radiant complexion.
Take 2 daily 1 in the AM and 1 in the PM. Best to be taken with food, as food helps uptake and absorption
Recommended for ages 13 and older. Ages under 13 must get doctor's permission.
Women, Men and teens over the age of 13.
Yes the product will work for Acne on all areas of the body.
The Acne Cleanse capsules are expertly formulated using a blend of traditional herbal ingredients, vitamins and antioxidants, such as Wolfberry, White Willow Bark Extract, Witch Hazel Leaf, Burdock Root and more These ingredients work from within to help prevent breakouts, alleviate acne, reduce large pores, boost skin firmness & reduce the signs of ageing and hyperpigmentation. Just two capsules a day, one in the morning and one at night, will feed your skin from within and enhance your natural glow, helping to promote a fresh, clear, healthy and radiant complexion.
The product is generally safe to use and people find it does not cause any serious side effects.
Yes, the Acne Cleanse can be taken alongside your current skincare routine.
Each bottle contains 90 capsules which lasts for 45 days of use.
Yes, the ingredients in the product help with uneven skin tone by increasing the production of collagen and blood vessel function, which assists in improving overall skin appearance.
Yes, the product can prevent large pores from getting worse by reducing sebum production. It also helps keep the pores clear of debris by speeding cell turnover, which can help make pores appear smaller.
Reviews
Customer Reviews
Write a Review
Ask a Question
06/14/2020
Kely D.
United States
Amazing results
I couldn't be happier than I am right now. This product works for sure. My hormonal acne has stopped completely. I had tried so many products with no results, had spent so much money. This product makes your skin glow and stops the acne. I had bought a 3 months supply and will continue to use not only for the fact of not breaking out, just for how amazing my skin looks during the healing process. Thank you so much Kallistia
06/08/2020
Mariama S.
Germany
Skin is Glowing!!!
Honestly, I was skeptical at first... but at a point, I decided to go for it, and today I can proudly say I have no regrets it just works tremendously for me, and the results started showing just after a week of using the Kallistia capsules .. I am absolutely glowing and am happy!!!!! Again I say thank you Kallistia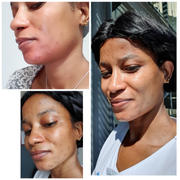 04/24/2020
Tamaria W.
United States
04/10/2020
Jasmin G.
Australia
Fast results
I've struggled with my skin for years now and I've tried too many products, but nothing has cleared my skin up like Kallistia Acne Cleanse Capsules. This product deserves a 5 star rating! I'm only on my 3rd week but this one gives me fast results. My skin is almost back to normal, it drastically helped me on my hormonal acne, clear blackheads on my nose, and my dark spots were significally lighter. My skin is clear and glowing that even my husband and friends have started noticing it❤ I just placed my second order for another 3-month supply. I must admit that I'm addicted to it Thank you, Kallistia!
03/24/2020
Andrea M.
United States
Just Incredible!
I was so sceptical about this product since I had been suffering from acne for a long time. Now that I am in my 30's I decided to give it a try and I can not be happier with the results. My skin looks amazing, not only has it reduced my acne but it looks glowing and better than ever. I am just concerned that there will be no more in stock for me to continue with my acne free journey. This product gave me my confidence back. Thank you very much :)) !!!!
03/03/2020
Zoe K.
Canada
Amazing
These have made a huge difference to the breakouts on my chin and neck, I haven't had any on my neck since starting these, the old scars from previous spots where they kept coming back are starting to disappear. I have suffered for years and it really knocked my confidence, I can finally look in the mirror and like what I see. Thank you Kallista xx
02/11/2020
Lisa Q.
United States
Happily surprised!
I was reluctant to try another product to help with my adult acne. I was fortunate enough to have good skin all through my teenage years. Into adult, I'd still get an occasional blemish, but nothing I couldn't deal with. It seemed like as soon as I hit 40, BAM! My skin erupted. It was hard to deal with. My hormones spazzed and betrayed me. I tried sooooo many products that said they helped adult acne and nothing worked. It was frustrating, to say the least. After dealing with this situation for about a year and I randomly came across this ad on Facebook. After reading several reviews, I thought, "what the hell? I've tried half a dozen other things, so what's one more?". About 2 weeks in and I've noticed a HUUUUUGGGGGEEEEEEE difference in my skin. I'm starting to return to normal. I'm beyond pleased that I took a shot on Kallistia. I'm going to be a repeat customer for sure. I don't really use foundation anymore. Definitely concealer though. LOL I have dark circles and an occasional pimple. I'm soooo happy. Thank you, Kallistia! ❤
11/29/2020
Ebony L.
United States
10/31/2020
Barbara W.
United States
The magic pills
My hormones give me a huge breakouts,I tried everything in the market even prescribed medication results was worse,until I started drinking this acne cleanse and 4 weeks I saw the improvement of my skin I really want to thank you Kallistia because ur pills are magically
10/26/2020
Cayla-Lee D.
Australia
Amazing product
I have always been skeptic all about trying new skin products as I used to struggle with acne as a teenager and topical products never truely worked for me. Now as an adult I still experience a few breakouts and blemish and I can honestly say that the Kallistia capsules help improve my skin during these times! My skin looks clear and glowing. I totally recommend it and have even given some to my younger sister too!